I think I mentioned before that I was in a meal rut this summer. I'm not sure why, but summers always prove a little hard for me to make a meal plan and stick to it. Maybe it's the more spontaneous nature of summer? I'm more likely to say yes to something that comes up last minute around dinner time. The sun is still up, it feels like it's still time to play. I think one of the other issues is wanting my food to be a little lighter. Heavy foods that cook all day in the crock pot just don't seem appealing to me. And usually if I don't plan ahead, there's not a lot of hope for dinner time. BUT, we have made some things (often repeatedly) that we really love this summer! I thought I'd share a few of the very best with you.
Chipotle Sweet Potato Burgers
Budget Bytes Chipotle Sweet Potato Burger
Sarah Peters told me about this recipe. It took me a long time to actually try it out for some reason, and I'm kind of sad I waited. They are amazing! My husband who would take a beef burger over a veggie burger any day, raved about it AND went back for seconds. That is a success in my book. This recipe is quick and the ingredients are super cheap. It also works well if you prep the ingredients beforehand and then form the patties right before you're ready to cook them. Even easier! I love it :).
Green Goddess Sandwiches
Bojon Gourmet Green Goddess Sandwiches
When I initially read this recipe, it seemed like these sandwiches required a lot of prep work. And if I'm going to eat a sandwich, I want it to be quick and easy. Making the sauce, and I suppose slicing the veggies take some time, but I promise you it's worth it. Especially because once those steps are completed, you can keep making these sandwiches all week. Which you will want to do, because these sandwiches are so good.
Cheesecake Factory Avocado Rolls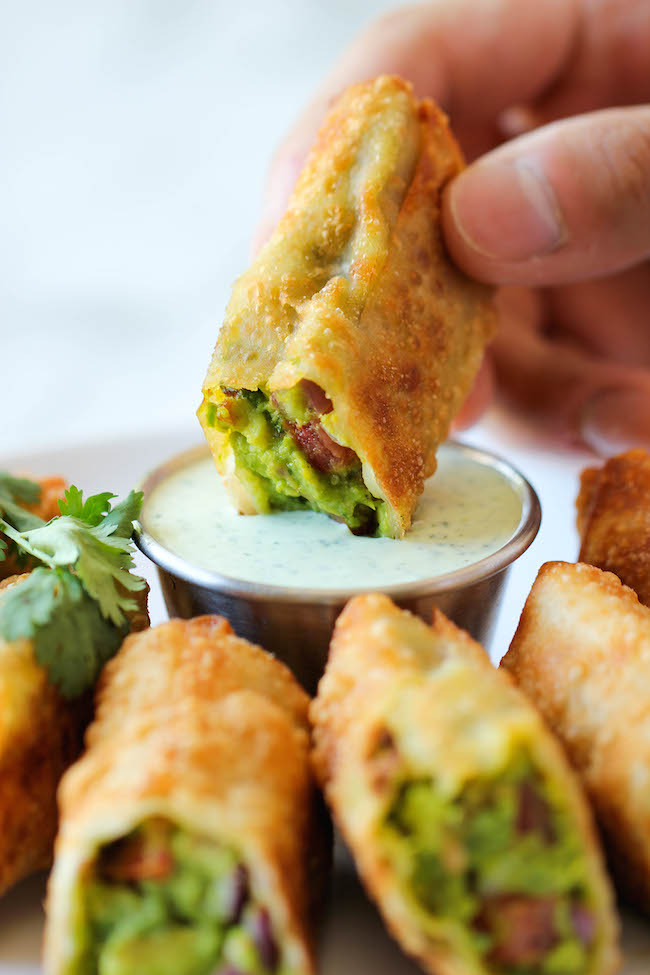 Damn Delicious Cheesecake Facotry Avocado Egg Rolls
Holy moly, these are good! The first time I tried them out, I made them as a side dish to some veggie enchiladas. When Corey and I started eating them, we totally ditched the enchiladas and polished these off. The second time I made them, they were the entree for our movie night :). They are that incredible, I promise. Instead of the cilantro dipping sauce, I finely minced a jalapeno and mixed it with some homemade ranch. Amazing! Seriously, give these a try.
Poblano Chiles Stuffed with Corn and Monterey Jack Cheese
Martha Stewart Poblano Chiles Stuffed with Corn and Monterey Jack Cheese
Ok, these have a special place in my heart. The day after Corey and I got married, we headed out of town on our honeymoon to Jamaica. Corey kept the trip a surprise from me until after our wedding, so I hadn't packed any reading material for a flight. We walked into one of those shops in the airport and I picked up a Martha Stewart magazine. During our trip, I flagged this recipe and Spicy Three Cheese Dip. The poblanos were one of the very first dinner recipes I tried when we got back. Every time I make them, I think about our honeymoon and that first summer together in this house. They always feel special, and they're always delicious.
When I'm in a meal rut, these are just a couple of my quick and easy summer meals. Do you have any easy summer favs? Let me know if you try any of these!